Tonight is the

Tennessee State Museum

Foundation's
5th annual "Sparkle & Twang," an event benefiting the Foundation's operating activities, which celebrates the Museum's Costume and Textile Institute and the institution's Young Professionals Council, is scheduled for Friday, November 5, 2010 at the Loveless Barn, 8400 Hwy. 100, Nashville. Hours are 7-9:30 p.m. Active community volunteers Fletcher Foster & Whitney Daane are the Evening Co-chairs.
photo from http://nashvilletravelvideo.com/images/capitalstatue.jpg
Here are the details as listed on the Museum's

website

:
This year's evening, dubbed "Baubles, Bangles & Bright, Shiny Beads," will salute the 2010 Costume & Textile Institute's two male inductees: Joseph C.M. Gregory and Steve Summers, both of Nashville. Gregory's Fable Fragrance, which he created in honor of his great-grandmother, Evalyn Walsh McLean, owner of the Hope Diamond, earned him, as the youngest-ever, two nominations from the International Fragrance Association (Fragrance of the Year and Packaging of the Year). He has also been a music business image consultant for the past 16 years, working with pop, country and contemporary adult artists and is the author of the best-selling book, "Queen of Diamonds," and the soon-to-be-released, "Hope." Summers is the Creative Director for legendary entertainer Dolly Parton, whose costume designs can be seen in the star's personal appearances, videos, movies and world tours. He began his career as a performer at Dollywood in Pigeon Forge, TN, before rising through the creative ranks to his position as Parton's personal couturier, a post he has held for the past decade.
Evalyn Walsh McLean, owner of the Hope Diamond
photo from http://pinkdiamondsgirl.files.wordpress.com/2010/09/evalyn-walsh-mclean-wearing-the-hope-diamond.jpg
The primary focus of the Costume & Textile Institute is to recognize the fashion achievements of Tennessee-based designers and style trendsetters while continuing to build and properly preserve the State Museum's rich collection of historic and contemporary fashions. Gregory and Summers will join the 17 other Institute members who have been inducted since 2005: Muna Abboud, Clare Armistead, Yvette Boyd, Anastasia Brown, Manuel Cuevas, Fletcher Foster, Sr., Marsha Mason Hunt, Col. Garry Littleton, Betty Badd Malo, Georgette Mosbacher, Bets Ramsey, Dee Shepherd, Jeanne Dudley Smith, Marty Stuart, Pat Kerr Tigrett and Basil Tugman. Marianne Menefee Byrd is Founding Chair of the Institute.
Manuel Cuevas
photo from http://blogs.nationalgeographic.com/blogs/intelligenttravel/cambridgephotos%20033.jpg
An additional highlight of the evening's activities will be the introduction of the second class of the Tennessee State Museum Young Professionals Council (YPC). These outstanding young adults, representing their peers, ages 25-40, were selected based on their accomplishments in the business world and for their involvement with the museum, as well as other charitable organizations in Middle Tennessee. The mission of the Council is to assist the museum in preserving Tennessee's priceless treasures, which include the State Capitol, while promoting the museum and its efforts to a younger group of Middle Tennesseans, who will soon assume the leadership roles in philanthropic endeavors now held by previous generations. The six inductees for 2011 are: Joe Burchfield, Lyndsey Johnson, Catherine Beckner Perry, Whit Rhodes, Max Smith and C. Corum Webb. They join the inaugural class of 2010 members, who are: Dave Alexander III, Reen Locker Baskin, Chad Blackburn, Troy Duff, Steve Elkins, Carol Fite, Reed Harrison, Tunisha Hobson, Hugh Howser, Katie Koban, Sutton Lipman, Olivia Sarratt McCarthy, Dr. K. B. Parkes, Julie Solomon, Wil Trohanis, Tori Tucker, Will Tucker, James Webb IV and Haden Wiley. Sara Jo Houghland is president of the YPC.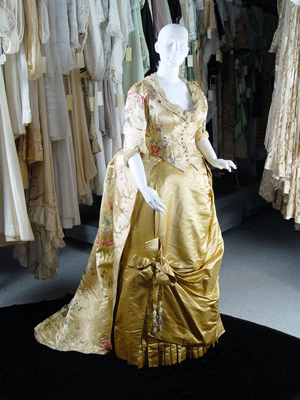 photo from http://www.dlib.org/dlib/november09/images/Charles-Worth-Gown-jpeg.gif
Sparkle & Twang V guests will enjoy a viewing of the Gregory Collection, featuring objects from the estate of Hope Diamond owner McLean, as well as the presentation of five Parton costumes designed by Summers, along with a cocktail reception with heavy hors d'oeuvres and a spectacular silent auction. Foster, manager and member of the senior management team at Red Light Management, and Daane, VP Creative, Nashville office of global online independent music publisher, Kobalt Music Group, are being assisted with Sparkle & Twang V by Silent Auction Committee members Mary Nell Bryan, Chad Lauderdale, Pam Lewis, Nancy Russell and Brent Young.
The Patron Spirits Co. is the presenting sponsor of Sparkle & Twang V with additional support from Borghese, Loveless Café, Nashville State Community College Foundation and Sylvia Roberts.
Tickets for the event are available by contacting Beth Lekander at either (615) 741-2539 or beth.lekander@tn.gov. Prices are $75 for individuals and $150 for couples. Tickets may be purchased by cash, check or with most major credit cards. Reservations will be accepted by mail through October 29 or by phone or email until November 3. All reservations will be held at the door. Tickets may also be purchased on the evening of Sparkle & Twang V at the Loveless Barn.
RSVP to Facebook
here
.