Get ready for the

East Nashville Vintage Boutique Crawl

which will take place December 4, 2010 from 6:00 pm to 9:00 pm. Here is a description of the event as listed on Yelp's website: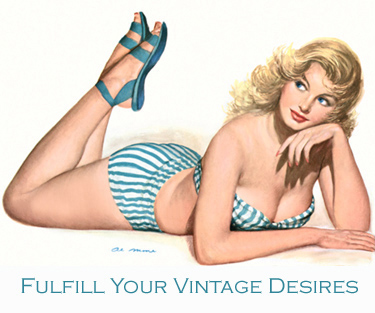 Music City's best vintage shopping is in East Nashville, where from 6-9 pm on December 4 over a dozen of Music City's finest purveyors of secondhand style are taking part in a holiday-themed boutique crawl. Shoppers will enjoy event-specific discounts on gifts and party clothes at seven neighborhood stores: Humankind Thrift, The Green Wagon, Wonders on Woodland, Hip Zipper Vintage Clothiers, The Goodbuy Girls, Made and Fanny's House of Music, where permanent in-store dealers Diamond Star Halo Vintage and T&P will be joined by visiting vendors Brooklyn Y'all, Closet Case Vintage, Mom & Pop Culture Shop, myfavoriteplum vintage, Pink Star Vintage and Sabrosa Vintage. Many stores are featuring entertainment, including a live band: Those Darlins will play a free show at 8 pm on the porch at Fanny's.
This is sure to be a fantastic event, filled with hidden treasures and gems. Grab your 1950's clutches, and head out for a shopping adventure with the East Nashville Vintage Boutique Crawl.
1. http://www.propervintageclothing.com/images/(2).jpg
2. http://www.buttons-and-bows.co.uk/images/50%27s%20reproduction%20vintage%20clothing%20fashions.jpg
3. http://blog.globalyp.net/wp-content/uploads/2009/06/Blu-Vintage-Boutique.jpg